| | | |
| --- | --- | --- |
| Quality of Service: | | (5.0/5.0) |
| Responsiveness: | | (5.0/5.0) |
| Professionalism: | | (5.0/5.0) |
| Value: | | (5.0/5.0) |
| Flexibility: | | (5.0/5.0): |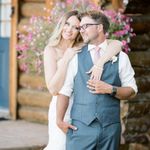 Definitely Recommend!
Dave Shannon was wonderful to work with ! Extremely easy to contact at any hour. Had lots of songs to choose from for the ceremony and reception. Was on time !! Stuck around at the end of the night to chat with my husband and myself. Dave is an all around easy going and relaxed guy. He was able to play requested cultural songs along with anything our guests requested. He dressed professional and everyone was very happy with the service he provided ! Thank you Dave !!!!!
~Craig & Kelsey~
*****
Awesome wedding DJ!
Dave Shannon was excellent to work with. He was flexible with meeting and discussing details and diligent in communicating the weeks leading up to the wedding. Dave provided microphones, projector and a screen. Great music was played all night. I enjoyed every moment of our wedding night! Thank you!
~ Warren & Rebekah ~
*****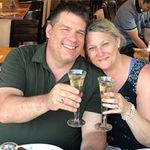 We danced the night away!
Dave took the time to understand what we were looking for from his DJ and MC service. He made sure everyone was out on the dance floor all night! He knows how to read a room and took the pressure off us so we didn't have to ask one of our guests to MC. He was the perfect choice for our wedding!
~Richard & Leah~
*****
Dave was fantastic!!
I had a large group of people in the older generation for an age range. I wanted to play oldies all night from Elvis to Willie Nelson & so on. He did a fantastic job with the music list. So good that my Uncle who is 84 was one of the last people to stay. Dave couldn't get the polka out of him! I want to say thank you so much for Dave for helping make the party a very special evening.
Thanks again!
~Ashley~
*****
Hi Katrina!
You and Cody truly made my job stress-free allowing me to provide the VERY best services possible. You are a DREAM couple and it was so awesome to be a part of making your special day EXTRA special!
Warm Regards & All The Very Best!
– Dave –
*****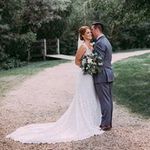 Went above and beyond!
Dave was the DJ at one of my friend's wedding and was highly recommended. Throughout the entire process, from the initial meeting to the wedding day, Dave went above and beyond and did not disappoint. Dave was always very accommodating and met me at both my ceremony and reception venues ahead of time to make sure everything would be set up perfectly. My father composed and recorded music to play at the ceremony and performed live at the reception and Dave spent lots of time communicating back and forth to ensure everything was exactly as my father hoped. Dave was friendly, considerate and professional and was an integral part of making our wedding day so special. I would highly recommend!
~Jamie~
*****
BEST MUSIC EVER!
Everyone said they loved the music at our wedding the dance floor was NEVER empty. My Brother and Sister also used Dave Shannon I would recommend them to anyone. Any requests were played right away keeping all guests happy.
~Linda~
*****
Awesome DJ!
We booked last minute after not being able to decide on whether we wanted a DJ or not-definitely glad we did! He had great suggestions for music and you could tell has lots of experience! Def recommend!
Hi Heather!
Helping you plan and be a part of your special day was just so "easy peasy". Playing the music for both your ceremony and reception was great. You and Nick are such a great match and I'm very happy you found each other. Thanks for giving me the chance to help make sure you had a GREAT wedding day!
Warmest Regards,
~ Dave ~
*****
Simply the Best There Is!
Dave is as professional and experienced there is when it comes to being a DJ. He was extremely helpful with planning all my songs and staying on top of everything as the day went on. Even talked to us for a while after we shut her down at night, which not all DJs do. He seemed more like a friend than someone we hired. That helped make the day go as perfect as it could have possibly been! Huge thank you to Dave! I highly recommend his business for any event.
Hi Kristy!
Thank you so much for your kind review. You and Steve are just two really great people. It's so amazing to meet a couple that I would choose as friends. So it seems like our review of each other is completely mutual then 🙂
Here's to the both of you!
~ Dave ~
*****
Great entertainer!
Such a pleasure having Dave Shannon Music do our wedding. Since day one the communication was great. On our big day Dave was exceptional , pleasant to our guests as well put on a great time for us and our guests. Everyone was up and dancing. Definitely recommend!!!
~Frederico~
*****
Definitely Recommend Dave Shannon!
Dave Shannon was great! We didn't really know what songs we wanted to play or how our evening reception should be organized, so it was mostly up to Dave what songs to play, and he did a fantastic job as our DJ and MC. We couldn't have been happier with our choice of booking Dave Shannon. Throughout the evening he was very flexible in doing announcements, accepting song wishes, finding suitable songs for our dance (which we hadn't planned but suddenly decided to do for the guests). Everyone at the event enjoyed music. Dave was always reachable, ready to answer any questions, available to meet with us before the wedding, and his pricing for the event was straight forward with everything included. Some DJs charge by hour packages, but Dave Shannon's price is for the whole event, including lights and more. We definitely recommend Dave Shannon! Thank you for the great experience!
~Smith~
Very happy!
Dave did a fantastic job at our wedding. He was able to create a great mood for our dance, and he ensured there were people on the floor throughout the night. He also made planning and communication a breeze, and we would absolutely recommend him!
Darren it truly was a great pleasure to have had the chance to be a part of ensuring your and Frances' special day was the very best it could be – I could only wish all my couples were as wonderful as you two are!
Kindest Regards,
~ Dave ~
*****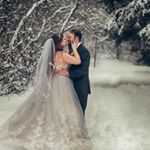 Easy to work with and plays great music!
We hired Dave cause we wanted a DJ who would be comfortable playing old time rock and roll, country and of course the wedding classics, and he delivered! Having an in-person meeting was not an option because we live 17 hours away from Edmonton, and Dave worked with us on phone and email to ensure we still had an amazing reception!! He was even willing to put in our contract that he wouldn't play Justin Beiber, and held that promise, despite some best efforts by wedding guests!!
~Kendra~
Best Choice Ever!
Dave Shannon Music was such a great choice for our wedding! We would definitely use them again. Dave was helpful, personable and very professional! This company was so amazing, They really made the day come together without any issues. As a bride, I didn't have every song decided or written out and Dave just went with the flow and never made me feel bad about not being organized! They did the ceremony music and music for all the activities throughout the day. Everything was perfect! You can't beat the price, but mostly Dave Shannon is experienced and you can really tell through their professionalism. We would recommend them for any event. Thanks for making our day so magical and unforgettable!
~Ashley~
Dave Shannon was excellent to deal with. Upon initially requesting further information about services and prices, he personally called and spoke with me over the phone. Dave was personable, accommodating, and provided a great price for everything he offered. I felt at ease dealing with him, and having him at our wedding. Dave comes with everything, and there's no hidden costs. Dave was great to deal with and I would suggest him to anyone requiring excellent DJ services.
~Travis~
*****
We hired Dave to DJ for our wedding ceremony and reception. He was super friendly and helpful, and met with us twice before the wedding to make sure everything was good to go. We had lots of fun dancing at the reception! There were a couple odd song choices (maybe they were for the older folks) but we had a blast and would definitely recommend him!
~Kay~
Dave Shannon Music was absolutely outstanding! The DJ had everyone up dancing all night and played a wide variety of music to suit different tastes and age groups. He was also very professional and friendly. I would absolutely recommend Dave Shannon Music to anybody! Thank you for making our wedding so fun!
~Lisa~
We chose Dave because of the impression left with us while we were pre-screening various DJ vendors. We knew immediately that we would not have to worry about this aspect of the wedding because Dave was thorough with his procedure. For anyone looking to have a low-maintenance experience with high return on investment, meaning Dave affords you the time and opportunity to focus all of the other things, leaving Dave to handle his task, as a true professional. He kept the party going all night with no issues. Trust me you will have no issues with Dave Shannon Music. The perfect wedding DJ!
~Tyler~
Dave was very organized and always kept on top of everything leading up to our wedding. He planned out his duties so as to prevent as little stress as possible to us (bride and groom). He came out the night before our wedding to ensure everything was set up and working correctly, and of course did an amazing job on the day of. He catered to the older guests and younger, and even stayed later than we agreed because the dance floor was still full! Very easy to work with and a very kind, caring person. His light show during the dance was a hit too!
~Leah~
I cannot speak highly enough about Dave Shannon Music. From our initial conversation over the phone to the day following the wedding Dave went above and beyond to ensure our day went smoothly and everyone enjoyed themselves. Dave knows how to read a crowd and he had everyone from young to old on the dance floor at one point or another. People are still talking about how great the music was! Thank you Dave Shannon DJ!!!
~Natasha~
Was truly wonderful!
Dave was amazing and there every step of the way my guests loved the music right through till the end. He knew just the kind of music to have people up and dancing. We wouldn't have picked anyone different to be there as our dj very satisfied service and price.
Hi Celine!
Thank you so kindly for the awesome review. You and Brandon were so amazing to work with and your extremely "laid-back" nature made my job very easy. It was a great pleasure to help you out by doing your "mash up" for your father-daughter dance too. It was such a fun evening and one I hope you'll always cherish and remember.
The very best to you both for a long and happy future together 🙂
~ Dave ~
*****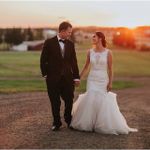 We had Dave provide DJ services for our wedding in rural Alberta. He was wonderful and professional to work with, provided lots of help and advice during the planning process. He was always easy to reach, and worked with us to make our vision come to life. We had an outdoor ceremony with a reception immediately after, and he had great set up and sound for both. I would definitely recommend Dave and his services!
~Dana~
*****
Polite, professional, and friendly. He catered to our needs, allowed us to contact him anytime should an issue (or question) occur, and was at all times approachable and a decent guy. Plus has an encyclopedic memory for music, new, old, and obscure. Highly recommended.
~Christopher~
Dave did a great job! We're very happy with the service he provided. He responded to our calls in a timely manner and played a great set list based on the guidelines we set out. He had everything set up early and integrated seamlessly with the events of the day.
Thanks again for everything!
~Amid & Sarina~
Dave was excellent, very accommodating with everything from the initial meeting to the day of the wedding. He was able to work with us on price in order to fit his services into our budget. Beyond that his professionalism and his services themselves were the best I've experienced at a wedding. Would highly recommend!
~Iain & Amy ~
Dave was amazing! He worked with us for my 40th Birthday party, we chose Great Gatsby as our theme and Dave played music that kept us dancing all night! Not only did he keep us moving, he worked amazingly with our other vendors to make the night exceptional for not only me but for our guests as well. And as my lovely little nieces affectionately call him "the music man" is the best! Thank you so much for everything, and I will be recommending you to others who have events!
~Kelly~
*****
Dave Shannon was great! Everything we asked for was completed for us, even when our vendor fell through with some of the things we had planned, Dave stepped in and helped us out. Great job, great price, very easy to work with!
Davis & Juanita
Dave Shannon dj services were phenomenal. I'd recommend him to anyone and everyone. Very professional, and at the same time, extremely personable and fun. My wife and I are so happy we chose him! All of our guests couldn't stop complimenting, and inquiring!
~Daniel~
Dave Shannon is a true professional who can be relied on to deliver a top notch wedding experience. Dave hit every cue, coordinated with our other vendors, stuck true to his word and kept our guests up and moving on the dance floor until the very end of the night. If you're looking for a professional DJ who can truly read the crowd and put on a great party, Dave is your guy!
~Jasmine~
Dave was awesome to work with. From the beginning he was easy to get a hold of and answered my emails very quickly. He is personable and likes to get to know a bit about the couple so that he can provide the best service possible tailored for their individual needs. He met us for a coffee a couple times to make sure that everything was going according to plan. He is well organized and makes sure to keep on top of everything which is great for a scatterbrained bride like me! He adapted quickly and was able to work with my MC to pull off a last minute game that I wanted to incorporate. The music was awesome the whole night, everyone was up and dancing at some point and the dance floor did not clear out until the end of the night. Our only complaint is that every time we would try to go and get a drink from the bar he would play another good song and we couldn't leave!!! Dave has years of experience and it really shows in the quality of service he provides. If you want everything to run smoothly with your DJ on the day of your wedding, Dave is your guy!
~Kevin & Brett~
*****
Dave was excellent to deal with from the very beginning. He responded very quickly from the first time we contacted him and throughout our planning process. When he met with us at first to discuss music choices and to get to know us, he was professional and helpful. He worked around our timeline and met where and when it was most convenient for us which was very helpful! At our wedding he did a wonderful job with the ceremony music as well as with the reception music. Our dance floor was constantly packed full with everyone from toddlers to grandparents having a great time! He played a wide range of music that all of our guests enjoyed. We received so many compliments on our music and everyone that encountered Dave noted how friendly he was. We would definitely recommend Dave to anyone as he was professional, helpful, and does an exceptional job! Thank you again Dave for making our wedding such a memorable event!
~Nicholas~
*****
We were very impressed with Dave Shannon's DJ service at our wedding! From the first time we contacted him he was extremely quick to respond and provide a quote. We met him in person to discuss our vision prior to booking him and closer to the wedding. On both occasions he was very thorough and professional.
We had given him a list of Indian music to play because my husband is Indian and he was able to play it as well as more traditional wedding music seamlessly. The crowd was happy and so were we! My parents even danced and they haven't for years.
We will definitely be recommending him for my sister's wedding next year.
Thanks again Dave!
~Sumayr~
*****
Dave Shannon was wonderful at our wedding in his professionalism, experience, fun spirit. He knew which music to play in the time line of the reception, made sure there was a variety for everyone. His detail and consideration was much appreciated. I could not say enough great things, my guests loved the DJ and I am so happy we choose to go with this company. We would choose this company again for our next function!
~Derek~
Dave was absolutely amazing and did everything on our time which made things so much easier!
He was very laid back and there were people on the dance floor all night! Everyone we have talked to that came to our wedding complimented on the music choices and how much fun they had. The night turned out perfectly 😀
Thank you Dave for the awesome job! You're the best!
-Shannon & Keegan Galloway
Excellent planning and very professional service. A great variety of music for the entire group.
~Robin~
| | | |
| --- | --- | --- |
| Quality of Service: | | (5.0/5.0) |
| Responsiveness: | | (5.0/5.0) |
| Professionalism: | | (5.0/5.0) |
| Value: | | (5.0/5.0) |
| Flexibility: | | (5.0/5.0): |